WEEKDAY EATS
Tuesday – Friday
From the Deli: 11 am - 7 pm
From the Kitchen: 11 am - 2 pm
Available for dine-in and takeaway
Check out our new items or enjoy a P&P favorite!
Order online for carryout or stop in!
Pre-Order Now
AS OF OCTOBER 14, 2022,
WE ARE TAKING A BREAK FROM SERVING FRIDAY FISH FRY
DUE TO STAFFING LIMITATIONS.
We are so sorry for any inconvenience, and look forward to serving you again soon!
We look forward to seeing you for weekday lunch and Saturday brunch,
and for pick ups of treats and eats from our locavore market.
Saturday Brunch
9 AM – 2 PM
Make the most of the morning with hot coffee, house-made pastries and ready-to-eat brunch all ready to carry out.
order online or call ahead
608.665.3770
Farm-To-Freezer
On your way home from work and need something to nourish the troops?  Visit our grab-and-go freezer section located in our marketplace and have a farm-fresh meal ready before anyone can say "what's for dinner?"
Meal kit subscriber? Looking to add a meal (or two!) to your Monday pick-up or delivery? Orders placed online by Monday at 9am will be added onto your weekly delivery.  Now that's convenient.
Meal List Here
Dinner, DONE.
Sign up for our local meal kit program! Your subscription includes one cook kit, one farm-to-freezer, and one ready to heat-and-eat meal, delivered to your door or ready for pick-up every week.
Have questions? See our FAQ page or reach out to [email protected]
Sign Up
A Note on Health & Safety
We hope you know that in these times and as always, we put the health and safety of our guests, members and staff first. It is our goal to maintain our operations in the safest way possible during these challenging times, and we are closely monitoring the recommendations of local, state and federal public health agencies. We are taking extra care to be diligent in sanitation and cleanliness, and we appreciate everyone who comes to see us, orders meals for pick-up or delivery, and receives our meal kits. You help us stay in business, support local farms and producers, maintain jobs with your trust and ongoing patronage.
Please see our Meal Kit FAQ page for up to date information about our policies and procedures.
a little about us
Pasture & Plenty is a meal kit service and farm-to-table deli & catering company on the corner of University and Highland on Madison's west side.
We are inspired by the local farmers and producers in Wisconsin, and are committed to making high quality, all-natural, plant-based or pasture-raised foods that you feel great eating and serving to your family and friends.
meal kit subscription pickups available on Monday from 3:30 pm - 7:30 pm
HOURS
MON 3:30pm - 7:30pm
TUE - FRI 11am - 7pm
SAT 9am - 1pm
SUN Closed
holiday hours may vary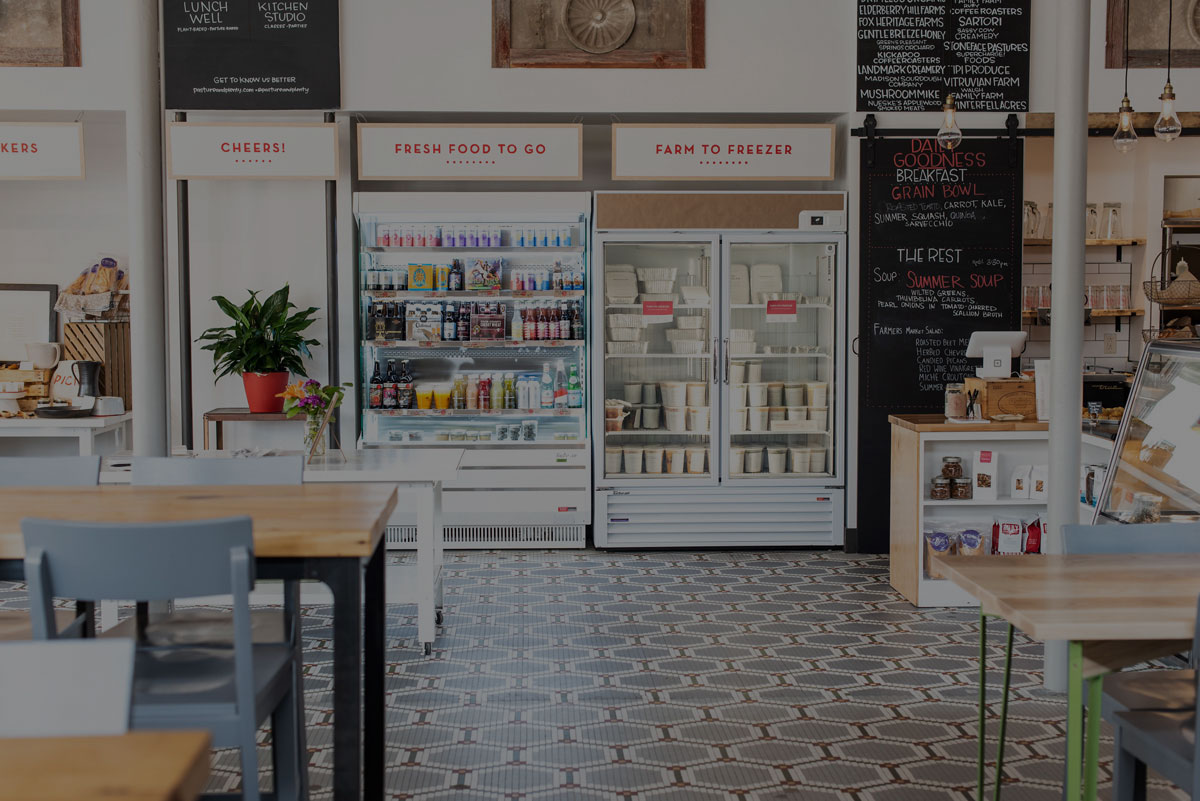 Please find parking for Pasture and Plenty behind our building on Highland Ave, in our parking lot next to the P&P Makeshop on University Ave, or there is street parking available in front of and around our building.
Thank you for being respectful of our neighbors!