Welcome, Neighbors! Come Say Hello
Come on in to say hello. We can't wait to show you the newly renovated Pasture and Plenty. Visit our shop to grab a delicious on-the-go meal, made from simple, local ingredients. We are open for weekday breakfast, lunch and Wednesday dinner.
Closed Saturday - Monday, for now.
Meal-Kit Pick-Up, Monday 3:30-6:30pm.
With love, Team Pasture and Plenty
We're (Back) On! - Wednesday Dinner
Please join us for Wednesday night dinner in our new space! A lot has changed at Pasture and Plenty since the Spring and we cannot wait to introduce our new space to our Madison neighbors. We look forward to continuing to serve you local, seasonal, ready-to-go dinners from our brand new kitchen.
Available for pick-up every Wednesday at 2433 University Ave from 5 – 7:30 pm.
December 19th Menu:
Shepard's Pie
or
Vegetarian Shepard's Pie
with
Chocolate Chip Cookies (Add-On)
Pre-order cut off at 5pm. If you'd like to order after 5pm, please come in or call 608-665-3770. Quantities are limited.
Each week we work with local farmers to bring you a ready-to-eat meal made from the best of the harvest.
Follow us on Instagram @pastureandplenty or Facebook to see the weekly menu.
Pre-Order
NEW! Farm-To-Freezer
Now available! If you're on your way home from work and need something to nourish the troops for dinner... we are excited to now offer a grab-and-go freezer section located in our front of house marketplace!
If you're a meal-kit subscriber and want to add a meal (or two!) to your Monday pick-up or delivery, please place order online by Midnight on the Saturday prior and we will add that onto your order and have it ready for you when you receive your meal-kit. Questions? E-mail hello@pastureandplenty.com.
*Quantities are limited*
Order Here
a little about us
Pasture & Plenty is a meal kit service and farm-to-table deli & catering company on the corner of University and Highland on Madison's west side. We are inspired by the local farmers and producers in Wisconsin, and are committed to making high quality, all natural, plant-based or pasture-raised foods that you feel great eating and serving to your family and friends.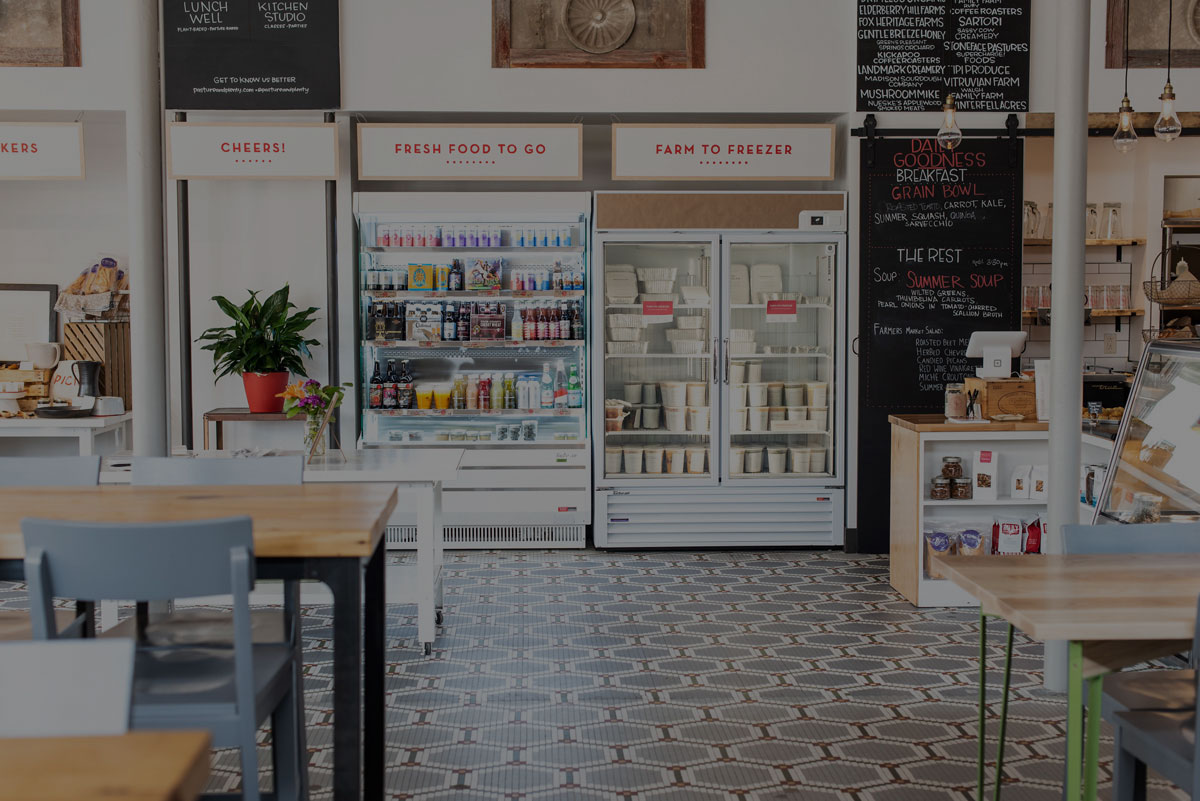 Please find parking for Pasture and Plenty behind our building on Highland Ave or there is street parking available in front of and around our building.
Thank you for being respectful of our neighbors.