FUELING THE STUDENT ATHLETE
February 9 | 1PM - 3PM
$50/ticket
Between school, homework and sports practice, how do you fit in time to EAT, let alone fuel for game day? In this class for high school student athletes, learn the nutrients to effectively fuel you through to the finish line while making four portable recipes for satisfying on-the-go nourishment.
The class ticket includes recipe instruction in the Pasture and Plenty demonstration kitchen with hands-on learning, recipes and light bites.
 Recipe supplies will be available for purchase to take home.
Allison Pfaff Harris is a Registered Dietitian-Nutritionist (RDN) who has worked in healthcare, public schools, and in private consultation to create beautifully nutritious meals and snacks.
Learn More
WEEKNIGHT DINNER
Tuesday - Friday
5 PM – 7:30 PM

Available for dine-in or takeaway
Check out our specials or enjoy a P&P favorite from our new weeknight menu
Order online or give us a call
608-665-3770
Pre-orders accepted before 5 pm
Pre-Order Now
 Friday Fish Fry
4pm-8pm
Seasonal fresh smelt & walleye caught as close to home as possible served with locally sourced sides
No reservation needed, carry-out options available
Pre-Order Now
Saturday Brunch
9am-1:30pm
craft cocktails | mimosas | bloody marys
check out our events page for our monthly themed brunches
let your friends know you're here #pastureandplenty
Farm-To-Freezer
On your way home from work and need something to nourish the troops?  Visit our grab-and-go freezer section located in our marketplace and have a farm-fresh meal ready before anyone can say "what's for dinner?"
Meal kit subscriber? Looking to add a meal (or two!) to your Monday pick-up or delivery? Orders placed online by Midnight on the Saturday prior will be added onto your weekly delivery.  Now that's convenient.
Meal List Here
a little about us
Pasture & Plenty is a meal kit service and farm-to-table deli & catering company on the corner of University and Highland on Madison's west side.
We are inspired by the local farmers and producers in Wisconsin, and are committed to making high quality, all-natural, plant-based or pasture-raised foods that you feel great eating and serving to your family and friends.
meal kit subscription pickups available on Monday from 3:30 pm-7:30 pm
HOURS
MON 3:30pm - 7:30pm
TUE 6:45am - 7:30pm
WED/ THU 6:45am - 7:30pm
FRI 6:45am - 8pm
SAT 9:00am - 1:30pm
SUN Closed
holiday hours may vary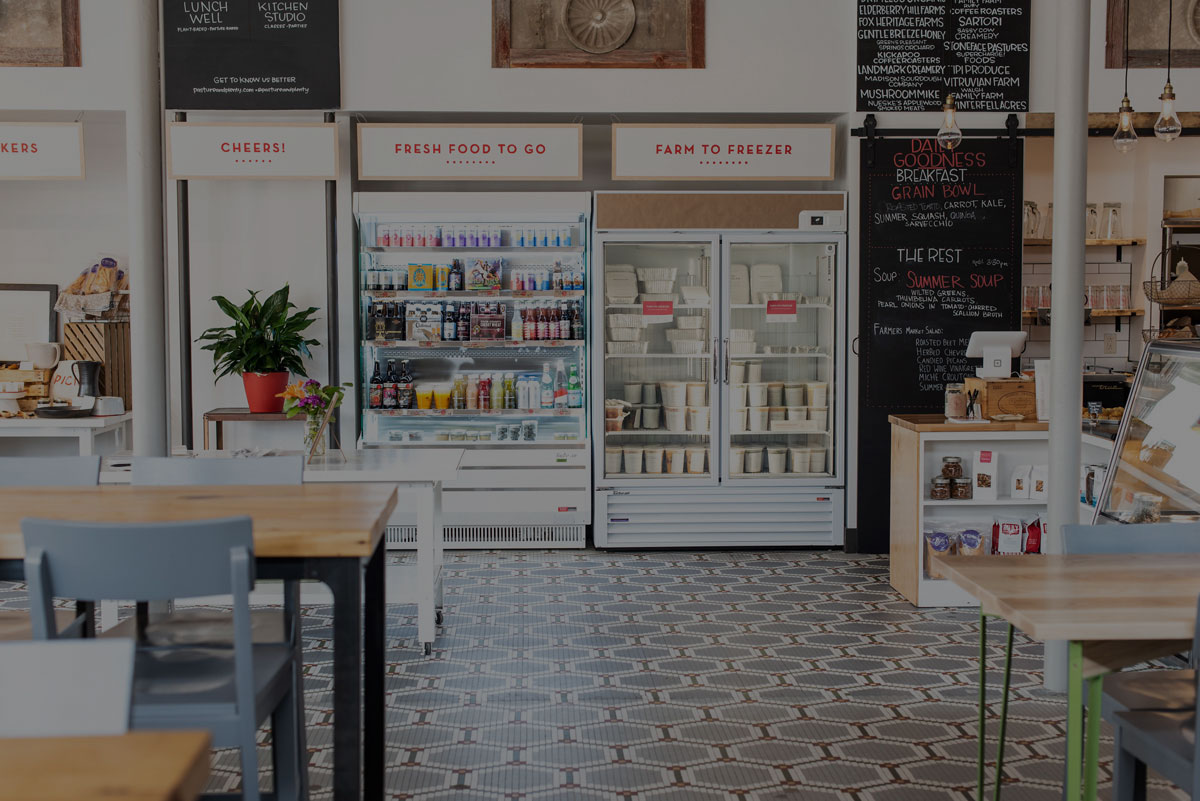 Please find parking for Pasture and Plenty behind our building on Highland Ave or there is street parking available in front of and around our building.
Thank you for being respectful of our neighbors.